Sorry, there was no activity found. Please try a different filter.
About Me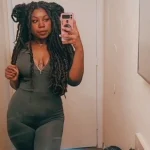 Kiana
Entrepreneur
Hello fellow SUB anime watcher 😂 (jk I like dub also)
Got tired of not seeing the anime keychains that I want.  😪 So I decided to make my own 👉🏾👈🏾 and whoever else that likes these as well🥰
🛍Check out my shop 👋🏾
✨️KikiKawaiiKeys✨️
♡Glow in the dark keychains
♡regular keychains
♡Iphone cases
♡hair clips +more!
👀Watch me pack your order, see shop updates 👀..follow me on Tiktok♡ @Nezukobff 😌